WE EMPOWER PARENTS TO TAKE THE LEAD
Strong Christian homes produce strong Christian children – and parents are at the center of it all! We understand that when our youth leave out the doors of the church, discipleship does not end there. Parents play a vital role in the spiritual growth of their children and as a part of our Youth Ministry, we have a dynamic Parental Program that is designed to empower you to lead, disciple and train your children in the way they should go.
Parent Empowerment
We believe parents play the most significant role in the spiritual development of their children and we have great news – you're not alone in your journey to raise godly children. We host Parent Empowerment Sessions to equip parents with biblical principles, wisdom and parental strategies they can apply to get Kingdom results in their home. The dates will be announced in church and provided in our monthly Youth Ministry newsletter.
The Village
There is real power in community. For decades, strong churches, engaged families and caring neighborhoods have provided safe environments that empower people to grow, flourish and live. We are firm believers that if we come together – we can do a whole lot better than what we could do on our own. The concept of "the village" is – a cooperative partnership between parents and the church that creates a spiritual environment conducive to the child's success.
Youth Sunday Launch Meeting for Parents
Our Youth Sundays are an exciting time for our Youth Ministry! We make it our priority to ensure parents are well connected and informed with the details of this awesome event so that they can have their youth involved. Our Youth Director hosts a brief meeting with parents on the 4th Sunday of the month when a Youth Sunday launches to provide important information that every parent needs to know.
Family Worship Sunday
At Harvest Life we believe that a better world starts with families being in Jesus Christ – and that's what our Family Worship Service is all about! During this special time together families experience a powerful time of worship, family empowerment from Bishop Dukes and Pastor Deborah, a special family prayer, a delicious family dinner at the Marketplace, fun photos at our Family Photo station and more!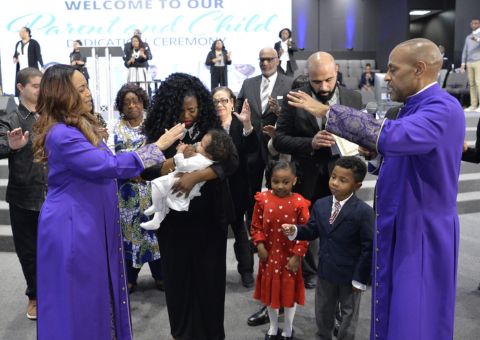 Parent and Baby Dedication
The Bible says in Proverbs 22:6 to "Train up a child in the way he should go: and when he is old, he will not depart from it." Participating in a Parent and Baby Dedication (for children age 0 – 4 years old), held during our Family Worship Sunday, to make a public commitment to raise your child in the ways of God is one of the first and most important steps you should make in the journey of godly parenthood. Click the button below to sign up and learn more.
"We recently joined Harvest Life Church. Ever since our teenage sons have been attending Wednesday Night Live, we've been amazed by the transformation taking place in their lives. They are excited about God and coming to church – like never before! They are doing better in school and they are showing greater respect for us and integrity in their day to day living. We are so thankful for what God is doing in their lives through the Youth Ministry!"
"Since my daughter has been connected to the Youth Ministry of Harvest Life, I've seen exponential growth in her personal relationship with God. She's always excited to share about what she's learned at church and even asks me if we can pray about different situations together. Because of her excitement, several of her friends are now coming to Wednesday Night Live with her. She's even inspired me to get more involved at church."
"Our son was connected with friends that we know were not good for him. No matter how much we talked to him and tried to place structure in his life to get him away from those negatively impacting him, he responded in rebellion more and more. As he's been coming to Wednesday Night Live, his mindset has totally shifted. He made a decision to distance himself from those negative influences in his life because he told us that he wants his decisions to honor God. We were totally amazed by the sudden change in his life and we owe it the dynamic Youth Ministry program at Harvest Life! We know with full confidence that it is God working in his life through the teaching."