JOIN US FOR WORSHIP AT HARVEST LIFE
At Harvest Life we believe that JESUS CHANGES EVERYTHING and something powerful happens when we come together to worship Him. Whether you are new to church, have been a Christian for many years or are looking for a fresh start, we believe that God wants to do something special in everyone who comes through the doors of Harvest Life.
As you experience the powerful praise and worship, an empowering Word from our Senior Pastors, great fellowship and more, we believe you will walk away empowered, changed and transformed by the power of Jesus Christ! We can't wait to see you there
THIS SUNDAY AT HARVEST LIFE
7:30 am

Doors open

Marketplace opens (remains open before and after services)

8:00 am

Sunday School

9:00 am

Sunday Worship Service

10:30 am

Harvest Kitchen opens

11:15 am

Children's Church (Age 3 – 5th Grade)

11:30 am

Sunday Worship Service

Parent/Child Dedication Ceremony
SCROLL DOWN AND LEARN MORE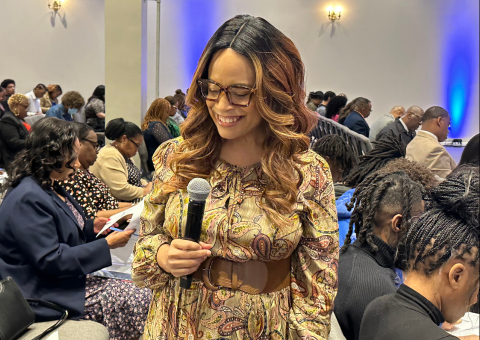 SUNDAY SCHOOL
8:00 am
Join us for Sunday School – "The best school in town!" Don't miss these exciting and interactive classes, held for youth (age 3 – grade 12) and adults as we are empowered to grow in our understanding of God's Word.
SUNDAY WORSHIP SERVICES
9:00 am and 11:30 am
Don't miss this powerful time of worship as we join together to lift up Jesus Christ in praise, be strengthened through fellowship and receive a life-changing Word from Bishop Dukes and Pastor Deborah.
PARENT/CHILD DEDICATION CEREMONY
11:30 am
Join us for this special Parent/Child Dedication Ceremony that will take place during our Worship and Youth Ministry Service as parents, along with family and friends, celebrate the precious gift they have been given and make a public commitment to honor God's plan for their child and guide them towards a personal relationship with Jesus Christ. During the ceremony our Senior Pastors will pray a special prayer of blessing, protection and favor over the child and as they are dedicated to the Lord. Please note that the deadline to sign-up is Friday, May 19th.
GUEST RECEPTION
Following the 9:00 am and 11:30 am services
Bishop Dukes and Pastor Deborah are excited to meet with all our guests at our very special reception following our worship services. If you are a first time guest or are interested in making Harvest Life Church your home, you are welcome to attend as well. See you there!
HARVEST LIFE KIDZ CHILDREN'S CHURCH
11:30 am
Children are important to us, so we've created a safe environment where our little ones (age 3 – grade 5) can learn about Jesus through exciting bible lessons, activities, crafts, games and also enjoy a delicious snack! Children's Church check-in begins at 11:15 am.
THE MARKETPLACE
Open before and after the worship services
Come treat yourself at the Marketplace! Enjoy delicious entrees, desserts, side dishes, snacks, beverages, ice cream and more!
BRUNCH AT THE HARVEST KITCHEN
Open following the 9 am service
Our Harvest Kitchen provides an opportunity for you to enjoy a delicious meal for brunch as well as a la carte items and a great time of fellowship!