JOIN US FOR WORSHIP AND OUR MOTHER'S DAY CELEBRATION
Join us at Harvest Life Church On Mother's Day as we experience a powerful time of worship, celebrate "The Power of a Mother" and honor all mothers for all that they are and all that they do – for the many sacrifices they make for their families, the way they cover their children, being teachers, doctors, guiding hands and so much more!
Get ready for Sunday School Live with Pastor Deborah at 8:00 am as we are empowered with a dynamic lesson on "The Power of a Mother". At our Mother's Day Worship Services we will be empowered with a life-changing Word from Pastor Lorene Poindexter (9:15 am) and Bishop Lyle Dukes (11:30 am), experience powerful Mother's Day tributes by our Youth Ministry, enjoy exciting foyer activities to celebrate all mothers and more!
THIS SUNDAY AT HARVEST LIFE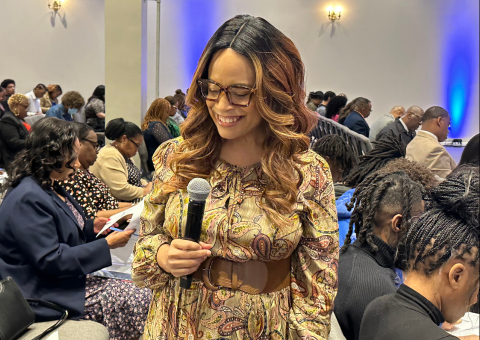 SUNDAY SCHOOL
8:00 am
Join us for Sunday School – "The best school in town!" Don't miss these exciting and interactive classes, held for youth (age 3 – grade 12) and adults as we are empowered to grow in our understanding of God's Word.
SUNDAY WORSHIP AND MOTHER'S DAY
9:15 am and 11:30 am
Don't miss this powerful time of worship and celebration of mothers! During our 9:15 am Mother's Day Power Hour Service we will receive a life-changing Word from Pastor Deborah's mother, Pastor Lorene Poindexter and at 11:30 am get ready to experience a powerful Mother's Day tribute from our Youth Mimes and Praise Dancers, a dynamic presentation from our Harvest Life Kidz Choir and Youth Orchestra, a powerful Word from Bishop Lyle Dukes and more! We will also have a special Mother's Day photo station, an Iced Coffee and Roses station, delicious desserts at our Mother's Day Bakery at the Marketplace and more to celebrate mothers on this special day!
SUBMIT A PHOTO OF YOUR MOTHER

We're celebrating all mothers on Mother's Day with a special photo gallery! If you would like a picture of your mother or a picture submitted on behalf of your children to be displayed in our photo gallery please email your photo to [email protected] by Wednesday, May 10th. Ensure your email contains the following:
• Subject Line: Mother's Day
• Attachment: Please do not attach more than 1 picture per mother. No photo collages.
• Body of Email: Include your mother's first and last name and your first and last name
GUEST RECEPTION
Following the 9:00 am and 11:30 am services
Bishop Dukes and Pastor Deborah are excited to meet with all our guests at our very special reception following our worship services. If you are a first time guest or are interested in making Harvest Life Church your home, you are welcome to attend as well. See you there!
HARVEST LIFE KIDZ CHILDREN'S CHURCH
11:30 am
Children are important to us, so we've created a safe environment where our little ones (age 3 – grade 5) can learn about Jesus through exciting bible lessons, activities, crafts, games and also enjoy a delicious snack! Children's Church check-in begins at 11:15 am.
THE MARKETPLACE
Open before and after the worship services
Come treat yourself at the Marketplace! Enjoy delicious entrees, desserts, side dishes, snacks, beverages, ice cream and more! Be sure to stop by after our 11:30 am worship service to enjoy some sweet treats and desserts at the Mother' Day Bakery!
MOTHER'S DAY PANCAKE BREAKFAST AT THE HARVEST KITCHEN
Open following the 9 am service
Our Harvest Kitchen provides an opportunity for you to enjoy a delicious meal for brunch as well as a la carte items and a great time of fellowship! On Mother's Day the Harvest Kitchen will feature a special Mother's Day Pancake Breakfast meal!