JOIN US FOR OUR FATHER'S DAY DOUBLE WEEKEND CELEBRATION
Join us at Harvest Life for our Father's Day Double Weekend Celebration as we celebrate "The Power of a Father's Love" and honor all fathers for all that they are and all that they do – for the many sacrifices they make for their family, the way they lead and protect their households, guide their children and and so much more! Be sure to check out the full itinerary below to see the exciting worship services, men's events, activities and more we have planned to celebrate all fathers! We'll see you there!
FATHER'S DAY DOUBLE WEEKEND CELEBRATION ITINERARY
FATHER'S DAY PRAYER BREAKFAST
Saturday, June 10th | 9:00 am
Join us as we kick off our Father's Day Double Weekend Celebration with our Father's Day Prayer Breakfast! Get ready for an awesome time of prayer, fellowship, a delicious breakfast and life-changing empowerment with Bishop Dukes. This event is open to men and young men in grades 6 and up. The cost is $10 per person. Deadline to pay is Friday, June 9th at 5:00 pm.
MEN'S CHOIR REHEARSALS
Thursday, June 15th | 7:00 pm & Saturday, June 17th | 9:00 am
Men of God, age 16 and above, join us for our Men's Choir Rehearsals as we prepare to minister at our awesome Worship and Father's Day Service on Sunday, June 18th at 11:30 am. (Men age 16 and above are automatically a part of the Men's Choir.)
MEN'S RECREATION MEETUP
Saturday, June 17th | 10:00 am
Calling all Men and Young Men in grades 6 and up! Don't miss our Men's Recreation Meetup at Occoquan Regional Park! Enjoy the outdoors as we take time to relax, recharge and enjoy a fun time of brotherly fellowship and recreation! From fishing, biking, running to kayaking, baseball, football, or simply just hanging out – there is something for everyone! This event is free, but some activities will cost.
Location: Occoquan Regional Park, 9751 Ox Road, Lorton, VA 22079
WORSHIP AND FATHER'S DAY – SUNDAY, JUNE 18TH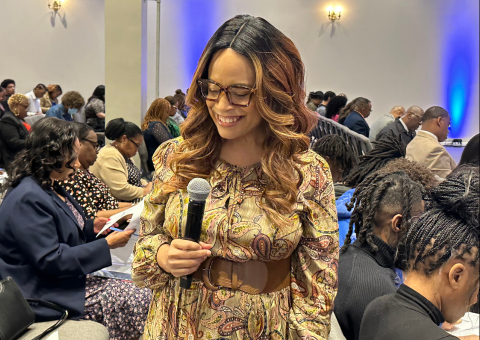 SUNDAY SCHOOL LIVE WITH PASTOR DEBORAH
8:00 am
Sunday School Live with Pastor Deborah is the place where we get united and strengthened through teaching, training and empowerment and receive direction for the church and our personal lives. We have bible-based curriculum, interactive lessons, live reenactments, competitions, field trips, and more. Please note that Sunday School classes will be held for youth (age 3 – 8th grade) and adults and high school youth. We'll see you there!
WORSHIP AND FATHER'S DAY SERVICES
9:15 am and 11:30 am
Don't miss this powerful time of worship and celebration of fathers as we receive a life-changing Word from Bishop Lyle Dukes at our 9:15 am Power Hour Service and at our 11:30 am Worship and Father's Day Service from Guest Speaker Elder Kevin Harris of Love of Christ Church. Get ready to experience heartfelt Father's Day tributes, delicious food at the Marketplace with "Dad's Grill" and more! This is a celebration you don't want to miss!
SUBMIT A PHOTO OF YOUR FATHER

We're celebrating all fathers on Father's Day with a special photo gallery! If you would like a picture of your father or a picture submitted on behalf of your children to be displayed in our photo gallery please email your photo to [email protected] by Wednesday, June 14th. Ensure your email contains the following:
• Subject Line: Father's Day
• Attachment: Please do not attach more than 1 picture per father. No photo collages.
• Body of Email: Include your father's first and last name and your first and last name
GUEST RECEPTION
Following the 9:15 am and 11:30 am services
Bishop Dukes and Pastor Deborah are excited to meet with all our guests at our very special reception following our worship services. If you are a first time guest or are interested in making Harvest Life Church your home, you are welcome to attend as well. See you there!
HARVEST LIFE KIDZ CHILDREN'S CHURCH
11:30 am
Children are important to us, so we've created a safe environment where our little ones (age 3 – grade 5) can learn about Jesus through exciting bible lessons, activities, crafts, games and also enjoy a delicious snack! Children's Church check-in begins at 11:15 am.
DAD'S GRILL AT THE MARKETPLACE
Open before and after the worship services
Come treat yourself at the Marketplace! Enjoy some delicious food off the grill, desserts, side dishes, snacks, beverages, ice cream and more!
BRUNCH AT THE HARVEST KITCHEN
Open following the 9:15 am service
Our Harvest Kitchen provides an opportunity for you to enjoy a delicious meal for brunch as well as a la carte items and a great time of fellowship!